StarCraft II Wings of Liberty
اقتباس:
Genre: Real Time Strategy
Release Date: June 27, 2010
Platform: PC
Developer: Blizzard Entertainment
Ratings: Metacritic: 88
StarCraft.II.Wings.of.Liberty-RELOADED
1 DVD9 | 7.16 GB | rls-scii
Protection: Custom/FlashVM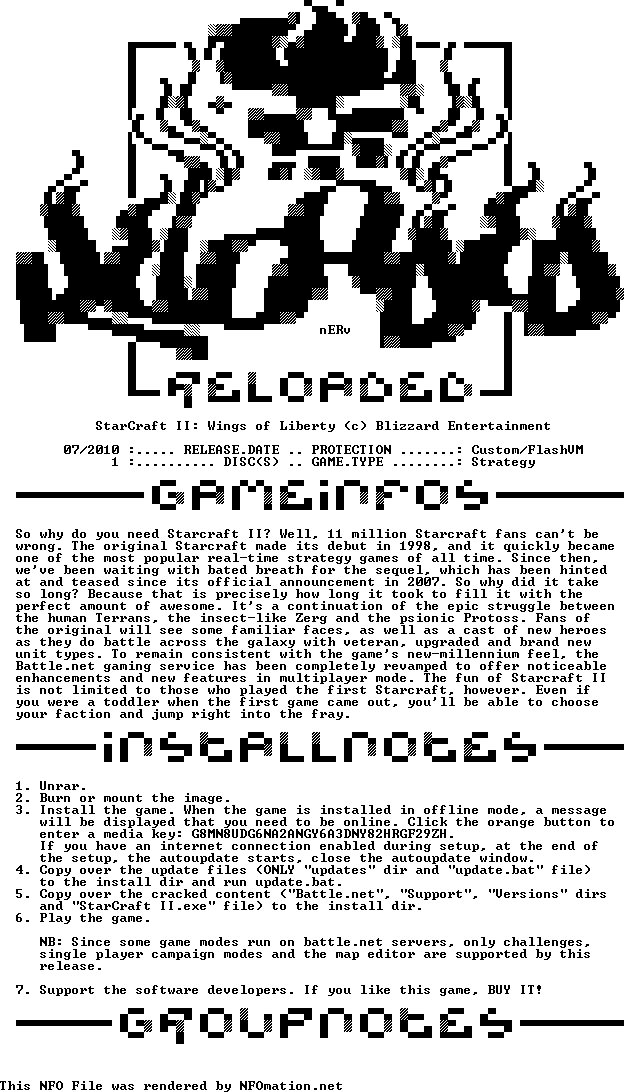 اقتباس:
Continue the epic saga of the Protoss, Terran, and Zerg. These three distinct and powerful races will clash once again in the fast-paced real-time strategy sequel to the original, StarCraft. Legions of veteran, upgraded, and new unit types will do battle across the galaxy, as each faction struggles for survival. Featuring a single-player campaign that picks up where StarCraft: Brood War left off, StarCraft II presents a cast of new heroes and familiar faces in a sci-fi story filled with adventure and intrigue. In addition, Blizzard offers online play through Battle.net with several enhancements and features to make StarCraft II even better.

Features:

Fast-paced, hard-hitting, tightly balanced competitive real-time strategy gameplay that recaptures and improves on the magic of the original game
Three completely distinct races: Protoss, Terran, and Zerg
New units and gameplay mechanics further distinguish each race
Groundbreaking single-player campaign
Vibrant new 3D-graphics engine with support for dazzling visual effects and massive unit and army sizes
Full multiplayer support, with new competitive features and matchmaking utilities available through Battle.net
Full map-making and scripting tools to give players incredible freedom in customizing and personalizing their gameplay experience

PC Minimum System Requirements*:
Windows® XP/Windows Vista®/Windows® 7 (Updated with the latest Service Packs) with DirectX® 9.0c
2.6 GHz Pentium® IV or *****alent AMD Athlon® processor
128 MB PCIe NVIDIA® GeForce® 6600 GT or ATI Radeon® 9800 PRO video card or better
12 GB available HD space
1 GB RAM (1.5 GB required for Windows Vista®/Windows® 7 users)
DVD-ROM drive
Broadband Internet connection
1024X720 minimum display resolution

PC Recommended Specifications:
Windows Vista®/Windows® 7
Dual Core 2.4Ghz Processor
2 GB RAM
512 MB NVIDIA® GeForce® 8800 GTX or ATI Radeon® HD 3870 or better
*Note: Due to potential programming changes, the Minimum System Requirements for this game may change over time.

The campaign storyline of StarCraft II takes place four years after StarCraft: Brood War, and features the return of a number of characters from the original series; including Zeratul, Arcturus Mengsk, Artanis, Sarah Kerrigan, and Jim Raynor. Players will also revisit the original series' worlds, like Char, Mar Sara, and Braxis; as well as new worlds, such as the jungle planet Bel'Shir. It has been confirmed that the Xel'Naga, the ancient space-faring race responsible for creating the Protoss and the Zerg, will play a major role in the story.
Download:
كود:
uploading.com ddlforumz.com_rld-scii.part37.rar/
uploading.com ddlforumz.com_rld-scii.part36.rar/
uploading.com ddlforumz.com_rld-scii.part35.rar/
uploading.com ddlforumz.com_rld-scii.part34.rar/
uploading.com ddlforumz.com_rld-scii.part33.rar/
uploading.com ddlforumz.com_rld-scii.part32.rar/
uploading.com ddlforumz.com_rld-scii.part31.rar/
uploading.com ddlforumz.com_rld-scii.part30.rar/
uploading.com ddlforumz.com_rld-scii.part29.rar/
uploading.com ddlforumz.com_rld-scii.part28.rar/
uploading.com ddlforumz.com_rld-scii.part27.rar/
uploading.com ddlforumz.com_rld-scii.part26.rar/
uploading.com ddlforumz.com_rld-scii.part25.rar/
uploading.com ddlforumz.com_rld-scii.part24.rar/
uploading.com ddlforumz.com_rld-scii.part23.rar/
uploading.com ddlforumz.com_rld-scii.part22.rar/
uploading.com ddlforumz.com_rld-scii.part21.rar/
uploading.com ddlforumz.com_rld-scii.part20.rar/
uploading.com ddlforumz.com_rld-scii.part19.rar/
uploading.com ddlforumz.com_rld-scii.part18.rar/
uploading.com ddlforumz.com_rld-scii.part17.rar/
uploading.com ddlforumz.com_rld-scii.part16.rar/
uploading.com ddlforumz.com_rld-scii.part15.rar/
uploading.com ddlforumz.com_rld-scii.part14.rar/
uploading.com ddlforumz.com_rld-scii.part13.rar/
uploading.com ddlforumz.com_rld-scii.part12.rar/
uploading.com ddlforumz.com_rld-scii.part11.rar/
uploading.com ddlforumz.com_rld-scii.part10.rar/
uploading.com ddlforumz.com_rld-scii.part09.rar/
uploading.com ddlforumz.com_rld-scii.part08.rar/
uploading.com ddlforumz.com_rld-scii.part07.rar/
uploading.com ddlforumz.com_rld-scii.part06.rar/
uploading.com ddlforumz.com_rld-scii.part05.rar/
uploading.com ddlforumz.com_rld-scii.part04.rar/
uploading.com ddlforumz.com_rld-scii.part03.rar/
uploading.com ddlforumz.com_rld-scii.part02.rar/
uploading.com ddlforumz.com_rld-scii.part01.rar/